FOR IMMEDIATE RELEASE
Contact:
Kristen Levesque
(207) 329-3090
kristen@kristenlevesquepr.com
SHELBURNE MUSEUM'S MAJOR SUMMER EXHIBITION
NEW ENGLAND NOW: PEOPLE
Ten contemporary artists explore the diverse cultures and people of New England.
SHELBURNE, Vt. (June 9, 2021)—This summer, Shelburne Museum is proud to present New England Now: People, the second exhibition in a new biennial series featuring regional contemporary artists. On view June 26 through October 17, New England Now: People will feature 10 contemporary artists from New England's six states in a multi-media group exhibition celebrating the communities and peoples of New England.
New England's diverse population—representing a multitude of ethnicities, cultures, and traditions—shapes and defines this beautiful and complex region. The 10 participating artists in the exhibition, representing each New England state—from such cities as Providence, Rhode Island, and Hartford, Connecticut, to small towns like Gorham, Maine, and Middlebury, Vermont—mirroring a small reflection of the region. Some of the artists identify as female, immigrant, queer, transgender, non-binary, disabled, Black, Indian-America, Asian, South American, and Native American, to name a few. Collectively, their artwork and voices, in dialogue with one another, create a multifaceted and inclusive portrait of who is a "New Englander."
The exhibition is designed to provoke and facilitate critical, timely conversations centered on the topic of identity, from self-image to cultural beliefs and equality. The works of art will challenge visitors to engage in important, at times difficult, subjects surrounding equity, exploring themes such as systemic and structural racial injustice, racism, and discrimination based on ethnicity, economics, religion, sexual orientation, and gender identity. More broadly, the lasting events that have shaped the past year of 2020 and beyond—from the pandemic to the reckoning around racial justice and equity—make this exhibition's conversations and voices more salient now than ever.
"New England Now, the biennial series, offers a perspective on current subjects expressed through contemporary art that is meant to provoke dialogue and challenge assumptions about our region," said Associate Curator Carolyn Bauer. "New England Now: People aims to do that by highlighting works by a diverse group of artists from communities that have historically been marginalized and underrepresented."
In celebration of diversity, the exhibition will also feature a wide range of artistic media, including painting, photography, sculpture, and digital and performance art. Many of the works evoke historical techniques and traditions created through a contemporary lens. For instance, Nafis M. White created a large-scale, three-dimensional Afro-Victorian hair sculpture inspired by her "Oculus" series for this exhibition. This commissioned artwork incorporates traditional Victorian-era hair and wire weaving techniques. White re-appropriates this historic medium by utilizing synthetic hair, hair adornments, and African and African American hairstyling techniques to celebrate the significance of hair and hairstyling for Black women, and to celebrate their resilience and power, as well as honor the artist's own African, English, and Scottish ancestry.
Annu Palakunnathu Matthew similarly combines art historical techniques and repurposes historic images in her featured photographic series "An Indian from India." In this renowned series, the artist examines the two meanings of the word "Indian" in the United States, drawing direct inspiration from the photographic archives of late 19th- and early 20th-century American ethnographic photographers—such as Edward S. Curtis (1868–1952), known for his romanticized studio portraits—and their depictions of Native Americans. Pairing historic images of Native Americans that inspired and instilled cultural bias, stereotypes, and harmful tropes with portraits of herself, Matthew plays up her own exotic "otherness" as an Indian American by recreating herself as the historic sitter, fashioned in similar poses and backgrounds and wearing traditional Indian dress and adornments.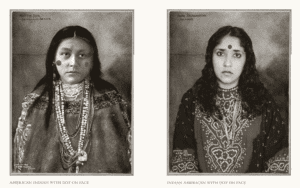 The list of artists in the exhibition includes: Melonie Bennett (Gorham, Maine); Sammy Chong (West Roxbury, Massachusetts); Kate Gridley (Middlebury, Vermont); Margaret Jacobs (Hanover, New Hampshire); Evie Lovett (Putney, Vermont); Toby MacNutt (Burlington, Vermont); Annu Palakunnathu Matthew (Providence, Rhode Island); Cobi Moules (Boston, Massachusetts); Nafis M. White (Providence, Rhode Island); and Erik Williams of Black Frame Vision (Hartford, Connecticut).
Image credits: Cobi Moules, Untitled (Rocky Coast of Maine I), 2019. Oil on canvas, 34 x 60 in. Courtesy of the artist and Kasper Contemporary.
Kate Gridley, Aubrey from "Passing Through" series. Oil on canvas, 60 x 30 in. Courtesy of the artist.
Annu Palakunnathu Matthew, American Indian with Dot on Face from "An Indian in India" series, 2009. Archival digital print, 12 x 21 1/2 in. Courtesy of the artist & sepiaEYE.
Press images available HERE.
About Shelburne Museum
Founded in 1947 by pioneering folk art collector Electra Havemeyer Webb (1888–1960), Shelburne Museum in Shelburne, Vermont, is the largest art and history museum in northern New England and Vermont's foremost public resource for visual art and material culture. The Museum's 45-acre campus is comprised of 39 buildings including the Pizzagalli Center for Art and Education and Webb Gallery featuring important American paintings by Andrew Wyeth, Winslow Homer, Grandma Moses, John Singleton Copley and many more.  For more information, please visit shelburnemuseum.org.
                                                                     ###