FOR IMMEDIATE RELEASE
Contact: Kristen Levesque
(207) 329-3090
kristen@kristenlevesquepr.com
Shelburne Museum presents a Virtual Exhibition Opening – Our Collection: Electra Havemeyer Webb, Edith Halpert, and American Folk Art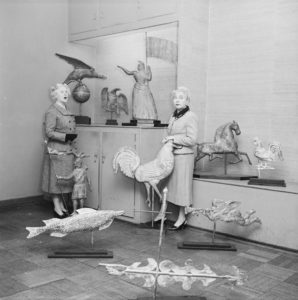 SHELBURNE, Vt. (February 2, 2022) Shelburne Museum presents a virtual exhibition opening Our Collection: Electra Havemeyer Webb, Edith Halpert, and American Folk Art on Wednesday, February 9 at 6 p.m. Join us for a special 75th Anniversary webinar to learn more about Shelburne Museum founder's trusted folk-art dealer and friend Edith Halpert, featuring guest scholar Rebecca Shaykin, Associate Curator at The Jewish Museum. 
Electra Havemeyer Webb (1888-1960), who founded Shelburne Museum in 1947, is widely known for her taste and collection of American folk sculpture. While her interests and acumen were visionary, she was also wise in seeking the guidance of outside experts to help assemble her collections, such as Edith Gregor Halpert (1900-1970). When Webb met Halpert, a prominent art dealer, in the late 1930s, they almost immediately formed a close personal and professional relationship. Founded on their shared passion for American art—specifically American folk sculpture—and their similar ambitious and hard-working personalities, their bond and admiration for one another lasted a lifetime. For Halpert and Webb, the act of collecting was an art form, and when collaborating, they created a masterpiece.
By the 1940s, Webb was a regular customer of Halpert's Downtown Gallery in New York City, an influential business that uniquely sold both American contemporary and folk art. Seeking Halpert's counsel and heeding her advice, over several decades, Webb purchased more than 100 objects from her for her new museum. Halpert even assisted with installing the museum's new folk art galleries in Stagecoach Inn. For shaping the museum's folk art collection, and acting as "the fairy godmother to the museum," in 1953 Webb appointed Halpert as a member of the Board of Trustees.
Our Collection: Electra Havemeyer Webb, Edith Halpert, and American Folk Art celebrates the friendship between these two trailblazing women and explores highlights from their collection. Featuring archival photographs and ephemera, a voice recording from Halpert, and quotations pulled from Webb and Halpert's extensive correspondences, this exhibition prominently features the voices of these two extraordinary women who forever changed the art world. 
To register for this free webinar, please visit https://us02web.zoom.us/webinar/register/WN_PeU7XxOCQbu3fmR7Pio63g 
About Rebecca Shaykin
Rebecca Shaykin has been an Associate Curator at the Jewish Museum in New York City since 2010. She has held prior positions at the Elizabeth A. Sackler Center for Feminist Art at the Brooklyn Museum and the Williams College Museum of Art in Williamstown, Massachusetts. She received her BA in Art History from Oberlin College and MA from the Williams College Graduate Program in the History of Art. She is currently teaching the class, Edith Halpert and the Rise of American Art.
Image Caption:  Unidentified photographer, Weathervanes, February 23, 1955. Contact sheet. LOOK Magazine Photograph Collection, Library of Congress, Prints & Photographs Division, [Reproductions number LC-L9-55-3785, #78].
Hi-res images available upon request.
About Shelburne Museum
Founded in 1947 by trailblazing folk art collector Electra Havemeyer Webb (1888–1960), Shelburne Museum in Shelburne, Vermont, is the largest art and history museum in northern New England and Vermont's foremost public resource for visual art and material culture. The Museum's 45-acre campus is comprised of 39 buildings including the Pizzagalli Center for Art and Education and Webb Gallery featuring important American paintings by Andrew Wyeth, Winslow Homer, Grandma Moses, John Singleton Copley and many more.  For more information, please visit shelburnemuseum.org.
                                                                     ###