Whimsy
Electra Havemeyer Webb collected objects that tickled her fancy. Her signature sense of whimsy can be found throughout Shelburne Museum. Indeed, to visit her museum is to enter a landscape of buildings, gardens, and collections designed to delight while they educate. Certain objects she gathered for their pure ability to amuse or entertain. Humorous genre paintings, a clown automaton, tin flowers, and the trade sign of a dentist named "Comfort" all found a home at Shelburne Museum. The strategies Mrs. Webb employed to display her collection intensified this sense of wonder by creating a surprise and discovery around every corner. From her first folk art purchase of a cigar store figure in the early 20th century to one of her final acquisitions, Andrew Wyeth's Soaring in 1960, a sense of the unexpected — of joy and playfulness — infused Electra Webb's collecting.
Whimsy in Music
A playlist by Helen Lyons, host of VPR Classical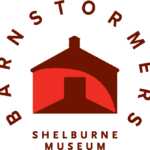 Generous support for this exhibition is provided by The Donna and Marvin Schwartz Foundation and the Barnstormers at Shelburne Museum.