Travel
Shelburne Museum's roots are steeped in the material culture of travel. In 1947, as Electra Havemeyer Webb was laying the foundation for the Museum, she was offered a remarkable collection of historic horse-drawn vehicles collected by the Webb family. Mrs. Webb jumped at the chance, purchasing acreage along Route 7 in Shelburne and setting to work on the construction of the Horseshoe Barn for the storage and display of these objects. Before the end of the year, the carriages were moved from Shelburne Farms to their new home on the Museum grounds where they remain for visitors today.
American Stories: Travel features highlights from the Museum's holdings that relate to the variety of modes of transportation over land and water that have defined the American experience. Paintings like William Birch's 1816 Conestoga Wagon on the Pennsylvania Turnpike and Fitz Henry Lane's 1863 Merchantmen Off Boston Harbor reveal iconic means of transportation that aided European settlers during the 18th and 19th centuries as they headed inland from the Atlantic Coast. These lumbering vessels were soon outmoded by new technologies like trains and steamships that allowed Americans—as well as their wares—to more efficiently navigate great distances. Decked out with fine upholstery and elegant aesthetic finishes, Concord coaches and fancy cutters invited travelers to see the landscape in comfort and style on a more personal scale. Together, these objects chart shifts in consumer preferences and industrial technologies that continue to shape the American experience today.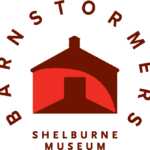 Generous support for this exhibition is provided by The Donna and Marvin Schwartz Foundation and the Barnstormers at Shelburne Museum.