Scale
Electra Havemeyer Webb possessed a keen sense of scale, collecting objects large, small, and in prodigious quantity. Her aspirational spirit, witnessed by such heroic feats as moving historic houses, a covered bridge, a lighthouse, and the steamboat Ticonderoga to create Shelburne Museum in the decade after World War II, balanced deeply held interests in the details and nuance of collecting. Mrs. Webb stands out for the way she composed a series of experimental and experiential environments in which to display and interpret one of the premier collections of art, Americana, and design in the United States. She populated her Vermont museum with oversized trade signs and diminutive salesman samples, model trains and a train, nineteenth century ship's paintings and a ship. Simultaneously intimate and grand, her vision has delighted visitors for over 65 years.
Scale in Music
A playlist by musician Ryan Miller, lead singer and guitarist for Guster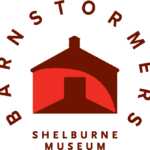 Generous support for this exhibition is provided by The Donna and Marvin Schwartz Foundation and the Barnstormers at Shelburne Museum.