The New Year offers an opportunity to reflect on the last year and think about goals for the next. In this two-part series, Shelburne Museum's objects conservator, Nancie Ravenel, shares last year's work-related high points and what they mean for 2019.
What I Did Last Summer
As a conservator, I work to stay abreast of developments in the field, often by attending conferences or workshops and reading literature. One thing I don't get to do very often is visit colleagues at other museums and actually experience how they do their jobs. While no museum conservator's job is exactly the same, there's a lot that can be learned and adapted for use.
Colonial Williamsburg (CW) and Shelburne Museum each have a purpose-built museum building with busy changing exhibition schedules as well, as house collections in historic vernacular buildings, so we do have a whole lot in common, but the institutions are very different in size and have very different organizational structures.
I was thrilled that Patty Silence, director of conservation operations (aka conservation ops) at CW, offered to welcome me for four days in August to visit the conservation labs and facilitated an opportunity to learn how the conservation team at CW interacts and collaborates with the facilities and architectural preservation and research teams. Mostly I did that by sitting in on structural condition triage meetings, attending behind-the-scenes tours offered by architectural history and conservation staff, and asking lots of questions of staff members as they went about their days. I learned a ton, and gave a short lunchtime presentation about the trip to my Shelburne Museum collections and buildings preservation colleagues after I got back.
One thing that provided me with a lot of food for thought was the Building Detective tour of the Robert Carter House, during which two summer interns from the architectural history department shared findings about the building's history gleaned from the CW Foundation's archives, physical examination of the structure, and through collaborations with conservator and materials analyst Kristin Travers Moffitt to understand the building's paint history.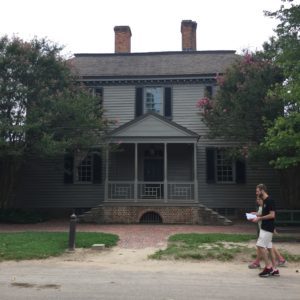 Robert Carter House (constructed possibly 1726-1727 based on dendrochronology on attic beams, restored as a residence 1931-32) at Colonial Williamsburg. Photo: Nancie Ravenel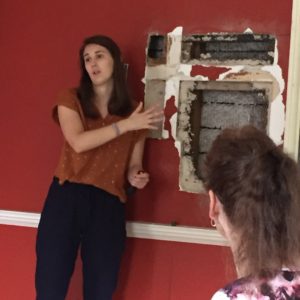 A Colonial Williamsburg architectural history intern walks the group through the layers within a wall reconstructed in 1931-32 within the Robert Carter House. Photo: Nancie Ravenel
Here at Shelburne Museum, I'm collaborating with the buildings preservation team to do a similar, but perhaps less invasive, examination of Stagecoach Inn (originally constructed Charlotte, VT c. 1785, moved to Shelburne Museum 1949) in preparation for a renovation and collections re-installation currently slated to begin November 2019. Museum guides tell me that visitors often ask about the colors used on the gallery walls, and so, like those architectural history interns, I will be sharing my findings to date about Stagecoach Inn's reconstruction in 1949, and its paint history on February 20 at 2 pm in the Pizzagalli Center for the Arts auditorium.  I also plan to make some labels that highlight this work in the building so that visitors can learn more about the structure next season. Hope you can join us!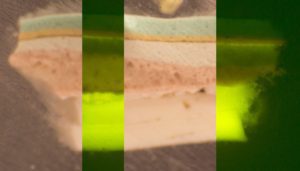 This paint cross section from wood molding on the first floor southeast room in Stagecoach Inn shows layers of paint applied here at the Museum as well as earlier paint layers. This image is a composite of pictures taken in visible light and ultraviolet light. The ultraviolet light image has a darker green tonality.
This paint cross section taken from the second floor east room reveals layers of varnish, visible as bright yellow line, applied over paint in the early years at the Museum. This image is a composite of pictures taken in visible light and ultraviolet light. The ultraviolet light image has a darker green tonality overall.
Thanks again to the conservators, conservation technicians  and architectural history staff at Colonial Williamsburg, notably Patty Silence, Joel Voron, Jennifer Thornton, Colleen Sinnott, Matthew Webster, Dani Jaworkski, and Emily Campbell, for taking time out of their days last August and being so patient with all my questions.
–Nancie Ravenel, objects conservator at Shelburne Museum